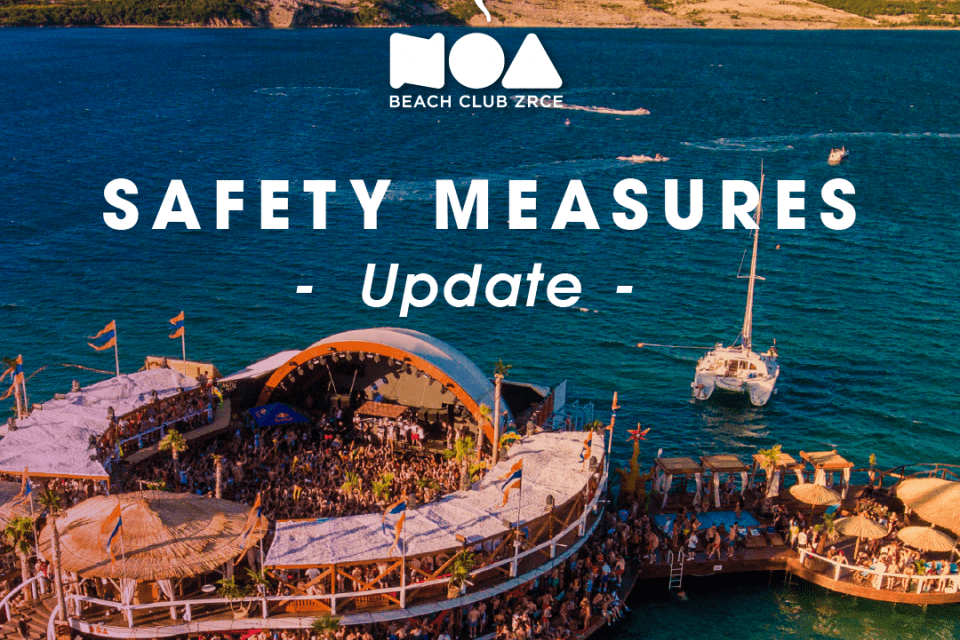 New Safety Measures and Regulations FAQ
Starting from the 1st of July, Noa implemented a new Covid Pass protocol to create a safe and COVID-free environment. This means we'll be able to dance longer and party until the morning hours without restrictions!
Starting from July 1st, Croatia declared new COVID measures for open venues and nightclubs. This will allow us to party like before, with no need to social distance, worry about the time, or wearing masks. This will be possible as long as everyone, including the staff, performers, and guests - present a valid document at the entrance. If we work together, we can make sure to make up for all the festivals and parties we missed last year!
Note: These are the rules to enter Noa while there is no specific festival happening at the venue. If you are going to a festival, please contact them directly to find out their safety measures and make sure you enter quickly and smoothly!
What do you need to enter the club?

a) People who are vaccinated need to present their EU Digital COVID Certificate (or proof of vaccination for non-EU countries). Check here for how to get the certificate.
b) If you didn't get vaccinated, you need to do a PCR or Rapid Antigen Test to be able to get the certificate and bring it at the entrance.
c) Everyone needs to bring a valid photo ID card.



Is one dose of vaccination enough?

For some events, you will be able to enter with one dose since you can get an EU COVID Certificate 22 days of getting the first dose. However, if you are going to a specific festival, please contact the organizers directly as some events have different safety measures.



What if I already had Corona?

You can also show proof that you had Corona in the last 6 months to enter. Please also bring your identification card with you.



Can I get tested at the entrance?

Yes, in front of Noa Beach Club you can do a  Rapid Antigen Test. This process takes approx. 5 minutes and you will get the certificate on your email and in print. The COVID-19 Center is provided by Life Polyclinic, a certified health institution. The test can be paid in cash or with a card. If you want to avoid crowds or waiting for the test, we recommend getting tested the day before your arrival.



How much does the test at the entrance cost?

100 HRK.



Where else can I get tested before my arrival at Noa?

Health Center Novalja
Slatinska Street
Bus Station at Zrce Beach



How long is the test valid for?

Rapid Antigen Test is valid for 48 hours and PCR test is valid for 72 hours and . After that, you will have to get tested again.



What are the working hours of Noa?

10 AM - 6 AM